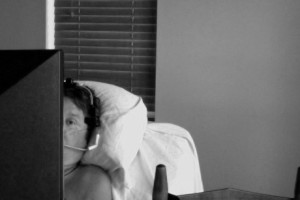 I'm a 49-year-old C4-5 and I've been injured for 25 years this past August. Currently, I am unable to use anything below my shoulders. I have trace motor in my right bicep, nothing functional. To be frank about the situation, I can't imagine anything more agonizing than not being able to hug my wife or family members. I need help with all aspects of my daily life with the exception of being rather adept at operating my computer using only my head.
No matter how hard I try to evolve as a spiritual being trapped in this useless body, my depression is deep-seated and a vicious battle I have to fight every day. Regardless of how tired or defeated I may feel. Emotional and spiritual tumult make me feel heavier and unable to motivate these days. My frequent thoughts of suicide are futile, ironically due to my condition. Although these thoughts are fleeting and occur only at my deepest darkest, it's reality.
Honestly, I hope I live long enough to be able to benefit from whatever procedures may materialize in the future. For me and for everyone suffering from spinal cord injury.